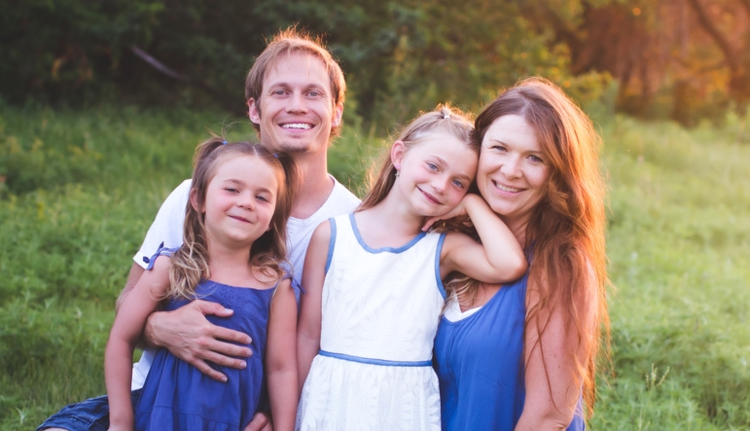 When Robert Smith first started searching for ways to help his wife and himself, he had no way of foreseeing the lives changed by Eutaptics since. Countless people – most of whom have never even met him – have completely transformed their lives in a wide variety of ways.
From emotional trauma and physical ailments, to relationship issues and financial patterns, Eutaptics has empowered individuals to take control over their own life experiences.
"A Laundry List of Diseases"
Heather McKean had suffered from a wide range of conditions throughout her childhood. By the time she was an adult, the list of diseases just got longer and longer.
Having tried all medical options, under the care of specialists, and having tried as many alternative treatments as she could find, Heather finally found Eutaptics. Attending her first Eutaptics live event set Heather on the road to a full recovery.
Read about one of the most remarkable lives changed by Eutaptics in Heather's story here: From Being Carried to the Bathroom – to Traveling the World!
Trauma, Illness, Injury and Disease
When Tiffany Jeffers found Eutaptics, she had been suffering from over 50 medical conditions that included: arthritis; severe fibromyalgia; chronic fatigue; spinal cord and neck injuries; IBS; and asthma.
Having lived in extreme pain for so long, Tiffany attended a Eutaptics seminar, and started to work on her traumatic memories. As she cleared and flipped the memories, her physical symptoms began to subside.
Although she has medical records that can be measured in pounds, three years later, she has no symptoms at all and takes no medication. Read Tiffany's inspiring story here: From Severe Pain and Wanting to Die – Eutaptics gave me a Dream Life with no Medications! – Tiffany's Story
Free from Lupus
When Rose attended her first Eutaptics training, she had to be wheeled into the room because she was so ill. She had lupus, and had been through surgery for a spontaneous fracture in her back.
Lupus is an autoimmune disease with no known cure, and although Rose was continuing to follow medical advice from her doctor, she had come to find out if Eutaptics could bring her some relief. Rose now no longer shows signs of lupus. Read her full story here: Eutaptics Shares the Story of Rose From Being Wheeled into a Seminar in a Wheelchair, to Freedom from Lupus
Kids' Lives Changed by Eutaptics
Speech therapist, Sara Prové works with children aged from 13 to 21 years who have moderate mental retardation. She has been using Eutaptics to help kids with a range of different challenges – from a fear of heights to grief and loss.
Teaching the children to tap on themselves using the Eutaptics process, Sarah has helped them to overcome the debilitating emotional challenges that have been holding them back. Read read the full details here: From Stress, Sadness and Shame to Happiness – Eutaptics and Kids – Sara's Story
Eutaptics Provides Relief for a Veteran Suffering from PTSD
Traumatic war experiences had Renaldo Phillips to suffer terrors, traumatic images and feelings. He had gone through the VA system, but had seen no relief from the symptoms of PTSD. In just three days, using Eutaptics, he was able to free himself completely. Listen to Renaldo share his experience here: Veteran Shares his Experience of Using Eutaptics for PTSD.
Free from Feelings of Being Abandoned
Having lived a life of feeling abandoned since suffering severe burns at four years old, LaRue frees herself using Eutaptics and is now living a happier, healthier life. You can listen to LaRue talk about her experience with Eutaptics here: Free from Feeling Abandoned and you can watch her session with Robert Smith here: I was feeling abandoned until today and Eutaptics did it for me!
I Cried for 15 Months Straight Every Day Over Trauma
Nutritionist, Juliana had suffered for 15 years from a trauma. After using Eutaptics to address and flip the memories, she no longer has any of those emotions and is free. Listen to Juliana share her experience here: I cried for 15 months over a Trauma and today Eutaptics cleared it out!  Watch Juliana's session with Robert Here: How to Free Yourself from Rejection and Trauma
Weight Loss and Insomnia
After the death of her father, Patricia was unable to sleep. For 28 years she could not sleep without taking sleeping tablets. After using Eutaptics, she not only was able to sleep again without medication, she lost 12 kilograms in excess weight. Listen to her sharing her story here: Weight Loss I Lost 26 Pounds Plus 28 Years Insomnia is Gone Eutaptics
Fear of Heights
She'd fallen off the roof of her home, broken her elbow, severely bruised and traumatized. Every time she tried to climb a ladder, she would go into fight or flight. In fact, even just thinking about climbing it would put her into a straight of intense fear.
When she got home the night after using Eutaptics to address the fear, she climbed the ladder, even though it was dark, and experienced no fear. The next day, she climbed onto the roof again, and for the first time since the accident, she was unafraid. Hear her story in her own words here: Fear of Heights Gone in 13 minutes
Eutaptics Changes Lives of Addicts
Whitney was in the long-term drug and alcohol rehabilitation center, Habilitat because of her addiction to heroine, meth and marijuana. Eutaptics allowed her to address the core drivers of her addiction, and when she was tested after her session, there was no sign of the addiction. Watch her experience here: Helping a Heroin & Meth Addict to clear out the cravings with Eutaptics
Freedom from Heroin Addiction
Nicholas had been a heroin addict for 13 years before he met Robert Smith and agreed to try Eutaptics. After using Eutaptics, Nicholas's life has completely turned around, and he is no longer addicted. Watch him sharing his experience here: Nick, a heroin addict, is freaked out with the Eutaptics Tapping Addiction process.
Never miss an update, join Eutaptics in Twitter, for variety of topics beyond PTSD, visit our Medium Publication.
These are just a small sample of the lives changed by Faster EFT. If you'd like to find out how you can transform your own life, read: How Eutaptics Solves the REAL Cause of All Your Problems.
For guidance in using Eutaptics read: The Eutaptics Technique – Step-by-Step.